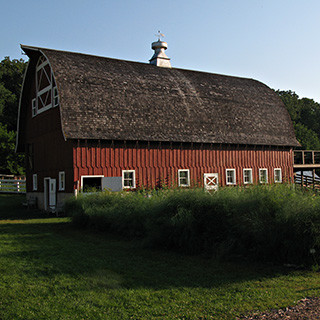 What, really, is the point of conserving agricultural biodiversity? The formal sector, genebanks and the like, will say it is about genetic resources and having on hand the traits to breed varieties that will solve the challenges tomorrow might throw up. Thousands of seed savers around the world might well agree with that, at least partially. I suspect, though, that for most seed savers the primary reason is surely more about food, about having the varieties they want to eat. David Cavagnaro has always championed that view. David's is a fascinating personal history, which currently sees him working on the Pepperfield Project, "A Non-Profit Organization Located in Decorah, IA Promoting and Teaching Hands-On Cooking, Gardening and Agrarian Life Skills". I first met David 15 or 20 years ago at Seed Savers Exchange in Decorah. This year, I was lucky enough to be invited there again, and I lost no time in finding time for a chat.
Podcast: Play in new window | Download (Duration: 12:07 — 11.2MB)
Subscribe: Google Podcasts | Spotify | Android | RSS | More
David pointed out that immigrants are often keen gardeners and, perforce, seed savers as they struggle to maintain their distinctive food culture in a new land. That's true for the Hmong in Minneapolis, Asian communities in England and, I'm sure, many others elsewhere. What happens as those communities assimilate? The children and grandchildren of the immigrant gardeners are unlikely to feel the same connection to their original food culture, and may well look down on growing food as an unsuitable occupation. Is immigrant agricultural biodiversity liable to be lost too? Efforts to preserve it don't seem to be flourishing.
Seed saving for its own sake, rather than purely as a route to sustenance, does seem to be both a bit of a luxury and to require a rather special kind of personality. John Withee, whose bean collection brought David Cavagnaro to Seed Savers Exchange and people like Russ Crow, another of his spritual heirs, collect and create stories as much as they do agricultural biodiversity. And that's something formal genebanks never seem to document.
Notes
John Withee's bean cookbook looks like it would be very interesting. Indeed, the whole Yankee bean-hole thing would be fun to explore.
Are you aware of people adopting "immigrant" foods not just to eat, but to conserve? My mother-in-law had red shiso (Perilla frustescens) volunteers all over the place, although I'm pretty sure she never used it as a herb. The lemongrass on my balcony hardly counts.
Can you point me to a public or private bean-hole party that might welcome a nosy reporter?
Would you consider reviewing Eat This Podcast on iTunes?
Or nominating it for a podcasting award?
Intro music by Dan-O at DanoSongs.com.