Podcast: Play in new window | Download (Duration: 18:55 — 15.7MB)
Subscribe: Google Podcasts | Android | RSS | More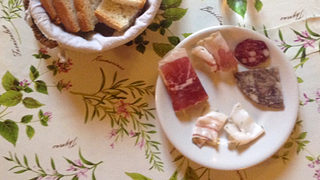 In the town hall of Siena is a series of glorious frescoes that depict The Allegory of Good and Bad Government. In one of them is a pig, long snouted and thin legged, black with a white band around its back and down its front legs, being quietly chivied along by a swineherd. It is absolutely recognisable as a cinta senese, a Belted Sienese pig, today one the most favoured heritage breeds in Italy. But it wasn't always so. Numbers dropped precipitously in the 1950s and 1960s, to the point that the herd studbook, recording the ancestry of all the animals, was abandoned. And then began the renaissance.
One place that contributed to the revival of the cinta senese is Spannocchia, a large and ancient estate not far from Siena. I was lucky enough to visit earlier this summer, to see the pigs first hand and to learn about them from Sara Silvestri.
Perhaps the biggest surprise, to me, was that not all cinta senese are blessed with the white belt that is deemed a characteristic of the breed. Some have white spots or stripes but not the full band, and some don't seem to have any white at all. This could be flaky genetics – odd for a breed with a supposedly ancient lineage – or it could be the result of marauding male cinghiale, which are a problem in Spannocchia and elsewhere. Right now, all these visually defective animals (and most of the perfect specimens too) end up on a plate. I wonder how long before every piglet born is properly belted.
Notes
La Tenuta di Spannocchia has a couple of websites, one mostly for the Foundation that's behind the place (alas, mostly broken) and one that's more commercial, which is where you'll be sent actually to book a stay, should you wish.
Be careful searching Wikipedia for information on the pigs. There's a bit in English and much more in Italian, if you can find the correct page.
Photograph by Lucy Clink.

   Huffduff it