Podcast: Play in new window | Download (Duration: 17:09 — 11.8MB)
Subscribe: Google Podcasts | Android | RSS | More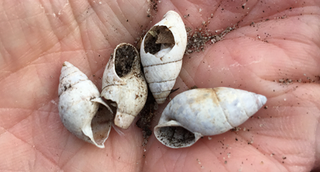 Day after day, week after week, special agents keep a look out for invaders that they really don't want to find. And we, the ordinary public, give them barely a second thought. Worse, we sometimes provide the means for the invaders to get in. Of course when it all goes wrong, there's an outcry, as there has been for the Mediterranean fruit fly, the European corn borer, the giant African snail and many other pests. Most of the time, however, we remain blissfully unaware. And most of the time, pests either don't get in or are detected fairly quickly and eradicated.
I was lucky enough to hitch a ride on a field trip in Puerto Rico, organised by the local survey teams to show plant health experts how they go about the business of keeping pests from establishing.
An aside: I can remember, back in the 1980s, sitting on a plane at Sydney airport ducking my head as the cabin staff wafted through spraying us with insecticide. These days, I learned, aircraft are mostly treated with persistent pesticides, eliminating the spray but not the need to keep insects out.
Notes
The opening and closing music is Che Che Cole, by Willie Colón with Héctor Lavoe. I had no idea when I chose it that like some species of giant African snail, it's original home is apparently Ghana. Some incursions are better than others.
The music in the middle is La Boriqueña, the national anthem of Puerto Rico, but the site where I found this version has apparently vanished in the interim.
The banner photograph shows two male Mediterranean fruit flies facing off, and is by Derric Nimmo.
The cover photograph of a giant African snail – no Photoshop – is by R. Anson Eaglin of USDA APHIS.
And those pathetic dead snail shells? They're the ones I found, all excited like, but they weren't the pests I was looking for.