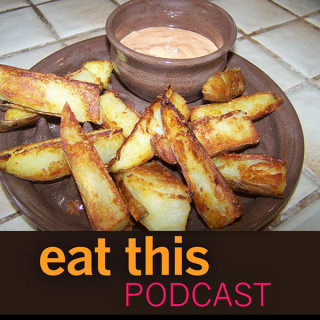 I am reliably informed that the taste of a soggy potato crisp – or chip, if you prefer – is identical to that of a crispy one. But the experience falls far short of enjoyable. A crisp needs to be, well, crisp. If it isn't, it actually tastes bad. That's not quite so true of things like fried or oven-roasted potato chips; they still taste pretty good when they're not quite so crispy, but they're even better when they are crispy, and that goes for a whole lot of other cooked crispy things too. Which is why it is such a shame that by the time you get to the bottom of a plateful of fries or nachos, they're soggy. Not to mention thin-crust pizza in a box. Ken Albala, a food historian at the University of the Pacific in Stockton California, happens to be an accomplished ceramicist, so he invented a plate that helps keep foods crispy. And that prompted an episode on crispy crunchiness.
Podcast: Play in new window | Download (Duration: 12:39 — 12.0MB)
Subscribe: Google Podcasts | Spotify | Android | RSS | More
The argument that the appeal of crispiness is innate – that is was selected for by evolution – is not that far-fetched. John S. Allen, a research scientist at the Dornsife Cognitive Neuroscience Imaging Center and the Brain and Creativity Institute at the University of Southern California, writes that "[c]rispy foods are certainly not the only type of food that humans find appealing, and of course some people do not even like them. But the pervasive appeal of crispy is clearly something that emerges out of our multiple, interacting histories".
There's more to it than just the texture or the sound of the food breaking in our heads, but there does seem to be something to Allen's ideas. What, though, is the difference between crisp and crispy? My sister says that, for her, carrots are crisp, while fried noodles are crispy, and that's an importance distinction, for her. I'm not so sure. I think one could possibly separate out the texture from the flavour, at least experimentally, and see whether there really is a difference. Of course all sorts of sensations affect the experience of eating something, but whatever the truth of the matter, I'd just as soon not have to eat soggy crisps.
Notes
Ken Albala blogs and has an interesting Facebook page.
Why Humans Are Crazy for Crispy is an essay by John S. Allen, adapted from his book The Omnivorous Mind.
Intro music by Dan-O at DanoSongs.com.