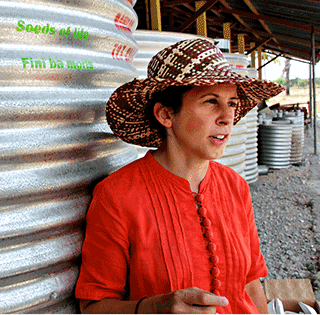 One week jam, the next global hunger and malnutrition. That's the joy of Eat This Podcast; I get to present what interests me, in the hope that it interests you too. It also means I sometimes get to talk to my friends about how they see the big picture around food. Dr Jessica Fanzo, Assistant Professor of Nutrition at Columbia University's Insitute of Human Nutrition, Special Advisor on Nutrition Policy at the Earth Institute's Center on Globalization and Sustainable Development, also at Columbia, and much else besides, is one such friend. She was in Rome recently for a preparatory meeting for a big UN conference on nutrition next year, so I took the opportunity to catch up, and to ask some very basic questions about global hunger.
Podcast: Play in new window | Download (Duration: 21:29 — 19.8MB)
Subscribe: Google Podcasts | Spotify | Android | RSS | More
I confess, I have very little time for the global talk shops that meet so that, somehow, magically, the poor can eat. And having attended a few, there does seem to be a dearth of people who have studied malnutrition and hunger first hand, and made a difference. Jess Fanzo has been promoting the idea of nutrition-sensitive agriculture as a way to make a difference locally, while recognizing that there can be no simple, global solutions. You have to see what works in one place, and then adapt it to your own circumstances. There are no simple global solutions. The primary point – that governments have some responsibility for ensuring that their citizens at least have the opportunity to be well-nourished – seems often to be lost in the din of governments talking about other things. And interfering busybodies declaring war on hunger don't seem to have much luck either. I don't have any solutions.
Notes
Check out Dr Fanzo's credentials at the Institute of Human Nutrition and the Center for Globalization and Sustainable Development.
She was also the first winner of the Premio Daniel Carasso; there's a video about that too.
She's written about her fieldwork and how it informs her global view. (And, as an aside, how come big-shot bloggers don't care about spam? Come on, people. Your negligence makes life worse for everybody.)
The Integration of Nutrition into Extension and Advisory Services: A Synthesis of Experiences, Lessons, and Recommendations reports on ways to promote nutrition-sensitive agriculture. And the research extends to social media.
The paper I mentioned, from the Potsdam Institute for Climate Impact Research, is Comparative impact of climatic and nonclimatic factors on global terrestrial carbon and water cycles.
Photo of Jess Fanzo in Timor Leste by Nick Appleby.
Engage