Podcast: Play in new window | Download (Duration: 18:38 — 26.3MB)
Subscribe: Google Podcasts | Android | RSS | More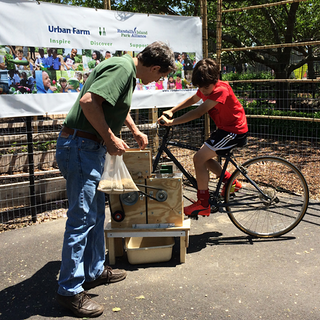 Randall's Island is a small piece of land just east of 125th Street in New York's East River. It is also around 2 degrees further south than the northern limit of rice growing on Hokkaido in Japan. What could be more natural, then, than for a community farm on Randall's Island to have a go at growing rice, a staple that the kids who come to the farm enjoy, but one that they've never seen growing? The assistant horticulture manager scored some rice seeds and with advice from her grandmother in Korea set to. They built a miniature paddy, like a flooded raised bed, and managed to harvest about six kilograms of rice. And that's when their trouble began. Rice is darn difficult to hull and clean.
A piece by Rachel Laudan tipped me off to the Randall's Island rice, and I was excited to discover that the person who origially wrote the story for The New Yorker was Nicola Twilley, a writer whose Edible Geography (and other projects) I have long admired. Luckily for me, she was happy to talk.
What intrigued me about the story of hulling rice in the northeastern US, was how it resonated with the plight of subsistence farmers in India, Bolivia and elsewhere. The women in many communities spend hours a day of hard and often dangerous work to prepare the seeds they have grown and harvested. I can't blame them if they would just as soon sell their back-breaking crop and buy prepared convenience foods, and hang the nutritional consequences. I've seen for myself how electrical mini-mills remove this drudgery for women in the Kolli Hills of India, and in so doing boost the consumption of nutritious millets. The same sort of approach, an inexpensive, locally-built machine, has made processing quinoa much easier for farmers on the Altiplano of Bolivia. There's something fitting about New York rice being treated in a similar way.

Notes
Edible Geography, Nicola Twilley's website, is endlessly interesting and entertaining. If you're into podcasts, don't miss the great show Roman Mars and 99pi did based on her research into cow tunnels.
Rachel Laudan has made something of a specialty of pointing out that growing cereals is the easy part; preparing them for food is what takes hard work and ingenuity.
Ecological Rice Farming in the Northeastern USA is not nearly as silly as it may first seem.
And for all the details of Don Brill's rice hullers, you need to head over to Brill Engineering, which sounds a lot grander than an inveterate tinkerer with a basement full of bits and pieces.
Daniel Felder, head of research at Momofuku, takes research into fermentation and terroir very seriously. Nicola has written about that too.
Photo of Don Brill and a volunteer rice peddler by Nicola Twilley, as are all the others. Thanks.