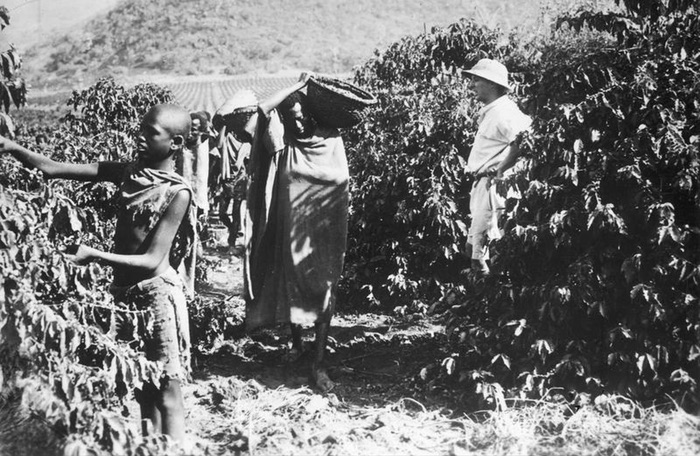 Podcast: Play in new window | Download (Duration: 22:09 — 20.4MB)
Subscribe: Google Podcasts | Spotify | Android | RSS | More
Tomoca Coffee House in Addis Ababa is a lasting reminder of the Italian occupation of Ethiopia. When I visited, almost 10 years ago, a somewhat ancient machine was producing terrific cups of espresso for a huge crowd, and they were doing a roaring trade in beans too. Tomoca is in some ways a symbol not just of Ethiopian coffee, but also of the Italian connection and, at one remove, of the way that coffee ties Italy and Ethiopia to Brazil.
Diana Garvin, an historian, recently published a paper that examines what she calls the Italian coffee triangle. She explains how Italy's belated land grab in Africa sought to transform the colonos of Brazil, the 2.7 million immigrant Italian labourers who effectively tripled Brazilian production in a decade, into respectable colonialisti in Ethiopia, Italians who owned and oversaw coffee plantations in Ethiopia. Although their Fascist-inspired duplication of Brazilian methods utterly failed, still, Africa had a powerful hold on the Italian imagination.
Notes
Diana Garvin's paper The Italian coffee triangle: From Brazilian colonos to Ethiopian colonialisti was published in Modern Italy, doi:10.1017/mit.2021.26. Follow her on Twitter @DianaEGarvin.
Chewing the Fat is one of Karima Moyer-Nocchi's two published books. She's on Twitter @MoyerNocchi, but not often. Better go to her website.
Banner photo of Italian plantation overseer and Ethiopian workers, someone else snagged from the Archivio Luce.

   Huffduff it