Podcast: Play in new window | Download (Duration: 10:47 — 5.1MB)
Subscribe: Google Podcasts | Spotify | Android | RSS | More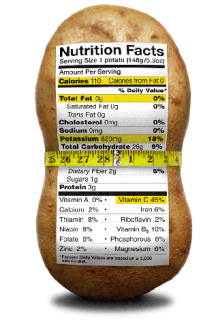 The USDA's Food and Nutrition Service runs a program for Women, Infants and Children that subsidises specific foods for eligible women and their children. Back when it started, the WIC program excluded potatoes, on the grounds that "Americans already eat enough potatoes". Potato growers – and their representatives – don't like that. For one, they think it sends the wrong message about the nutritional value of potatoes. And so, in 2010, the Executive Director of the Washington State Potato Commission, Chris Voigt, launched a protest. He decided to eat nothing but potatoes for 60 days, gaining massive amounts of publicity but not – yet – a change in the WIC list of approved foods. ((Mr Voigt says that "Potatoes are still excluded from the WIC program, unless you buy them at a Farmers Market.".)) However, while the world marvelled at Voigt's dedication to the people who pay his salary, one grower in neighbouring Oregon said "Hey, what's so hard about that? Last winter, I ate pretty nearly all potatoes for about six months. It was a feast all winter!"
Carol Deppe – author of Breed Your Own Vegetable Varieties and The Resilient Gardener – ate almost nothing but potatoes because that's what she had, and because she really understands the nutritional value of potatoes. She points out that potatoes contain more than 2% protein, which doesn't sound like much when you compare it to the 9% in rice or the 12% and more in wheat. But those are dry-weight values. On that basis, potato comes in at better than 10% protein, and that protein is both more balanced and better absorbed that wheat protein. This isn't exactly news. It's been known since the late 19th century that if you're getting all your calories from potatoes, then you're probably getting all the protein you need too. But that knowledge seems to have been forgotten, and Deppe thinks she knows why:
When the USDA denies WIC-program women, infants, and children their potatoes, in spite of the potato's known excellence as a food, in spite of how much we all like it, I think I detect a subtly Euro-centric as well as classist message: "The right way to eat is like upper-class Europeans, not like New Worlders or peasants." The problem is bigger than failing to recognize that Americans are not all Europeans, that even most European-Americans now embrace food traditions from many lands and cultures, and that most of us are closer to being peasants than to being medieval European royalty. To reject the potato is to be several hundred years out of date. Rejecting the potato represents a failure to learn some of the most important climate-change lessons of the Little Ice Age. I think the USDA should revisit its potato policy.
So do lots of other people, including potato growers, and although potatoes are again up for consideration, it isn't clear whether this time they will make it onto the hallowed WIC list. In the meantime, they remain an excellent and nutritious food.
Notes
The Effect of Food Restriction During War on Mortality in Copenhagen is Dr Mikkel Hindhede's account, in the Journal of the American Medical Association, of the impact of the World War I blockade on deaths in Denmark. By encouraging Danes to switch to a more vegetarian diet, Hindhede effectively saved 6300 lives. Mortality was actually lower during the blockade than before or after. By contrast Germany, also affected by the blockade, saw widespread famine.
There's an online account of Chris Voigt's 60-day 20-a-day potato marathon. It's pretty broken.
I hope to have more from Carol Deppe in a future podcast.
Image from Colorado Potatoes.
Intro music by Dan-O at DanoSongs.com.
It is even possible that Potato Pride is a genuine North Korean folk song?