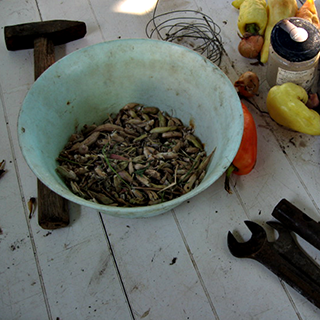 Introducing a blog post with the words "The European Commisssion recently decided …" is possibly a guaranteed turn-off, unless the decision concerns something really important like straight cucumbers. Illegal seeds, though, that might just stir some interest. And so it was, three weeks ago, with a proposal for a new draft of the laws that govern the marketing of plant reproductive material – seeds, among other things – in the European Union. I wrote about this over at the other place, but I also thought it would be worth doing something here, because for much of the food we eat, everything starts with the seed. You can't have a really sustainable, locally-adapted and diverse diet if you can't have a diversity of seeds. Bottom line: the new EU proposal is an improvement, and is not nearly as bad as some people seem to think, but it could be better still.
Podcast: Play in new window | Download (Duration: 13:09 — 6.5MB)
Subscribe: Google Podcasts | Spotify | Android | RSS | More
Not everybody is as interested in the arcana of seed law as I am, so I may have taken too much for granted in the podcast. There's more information at a couple of the links below, which would be a good place to start if you want to explore further.
Notes