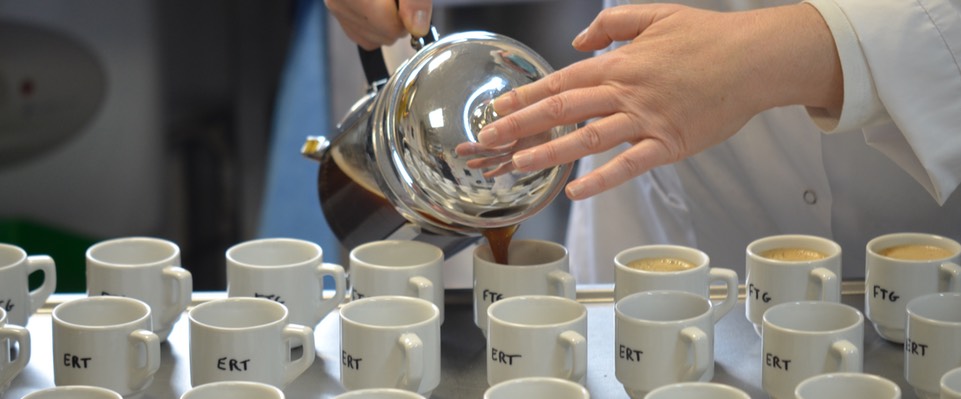 Podcast: Play in new window | Download (Duration: 18:58 — 17.4MB)
Subscribe: Google Podcasts | Android | RSS | More
A little less than a year ago I talked to Professor Jeremy Haggar about his search for a forgotten coffee of Sierra Leone. It was a species called Coffea stenophylla, named for its narrower than usual leaves, which had an extremely good reputation a hundred years ago. Unfortunately it was not very productive and so, despite its excellent flavour, it was shoved out by much more productive robusta coffee. After quite a search, Haggar and his colleagues found a few plants, probably not more than 100 in total. Although they were delighted to have rediscovered stenophylla, they were disappointed that there were no coffee berries on the bushes.
In early 2020, a colleague returned to the rediscovered bushes and gathered a handful, literally, of fruits. Then came covid, and efforts to taste the coffee stalled. In the meantime, prompted by the rediscovery, the French agricultural organisation CIRAD decided to take a closer look at the C. stenophylla on its research station on the island of La Réunion in the Indian Ocean. They gathered a slightly bigger handful, maybe half a kilogram, and both sets of coffee beans have now been appraised by experts. Just last week the researchers published their conclusion: "we are able to corroborate historical reports of a superior taste".
For this episode I spoke to Jeremy Haggar again to catch up on the story and what it means for the future of coffee and the future of Sierra Leone.
Notes
The original episode with Jeremy Haggar is It's coffee, but not as we know it.
If you are in the UK and interested in good coffee, the outfit that micro-roasted beans from the Sierra Leone is Union Hand-Roasted Coffee
Banner photo by CIRAD, others by RBG Kew.

   Huffduff it