Podcast: Play in new window | Download (Duration: 16:06 — 13.1MB)
Subscribe: Google Podcasts | Android | RSS | More
I went to Kilfinane, in Ireland, for the Hearsay Audio Festival. I stayed because Maurice Gilbert offered to show me round his apple empire at Ballyhoura Artisan Food Park.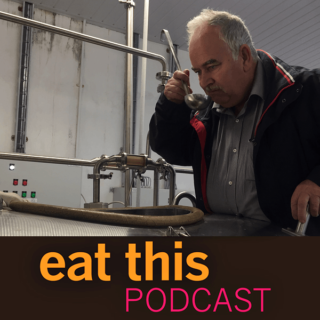 I was sitting in O'Seachnasaíth's public house, having just finished an excellent take-out that I'd brought in from Tasty Bites, because that's how things work there, and enjoying a final Guinness. A chap I recognised, because I'd seen him grilling hamburgers at the Ballyhoura Artisan Food Park, introduced himself, and I learned that he was in fact part owner of Ballyhoura. What followed was an excellent conversation about the various apple juices he'd concocted, which I had been enjoying all weekend, and, which really piqued my interest, a brief account of how they made their apple cider vinegar.
It being late at night, in a somewhat noisy pub, recording was out of the question. Maurice was kind enough to offer to do the whole thing again for me in the morning, so I changed my departure plans and showed up, armed this time with my recorder.
Notes
Ballyhoura has a website.

   Huffduff it