Podcast: Play in new window | Download (Duration: 18:15 — 14.8MB)
Subscribe: Google Podcasts | Android | RSS | More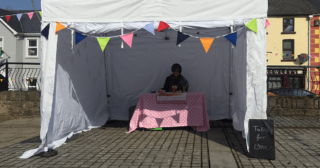 At the beginning of April, during the Hearsay International Audio Arts Festival, a little marquee in the main square of Kilfinane, a small mountain village, saw a steady stream of visitors enter. They would put on a pair of headphones, listen for a few minutes, and come out beaming a big smile. They had just heard one of the stories in a specially curated installation called Table for One.
After listening to one of the stories myself, I was inspired to reflect on my own thoughts about eating alone, and that prompted me to buttonhole people as they came out of the marquee.
This is the result.
Notes
Huge thanks to Lucy Dearlove for creating the Table for One stories. You can easily hear the four of them on Audioboom, and they were also part of her regular food podcast, Lecker.
In addition to Lucy Dearlove, the voices included those of Marije Schuurman Hess, Aislinn Stembridge, Mair Bosworth, Tom Fisher, Mike Williams and Diarmuid O'Leary. Many of them make wonderful audio themselves. Thanks to them all.
I really mean it about wanting to hear your thoughts on eating alone. WikiHow offers outline instructions for iPhone, Android and Windows phones, and there are lots of other tutorials around.

   Huffduff it